Hi! Welcome to Our Menu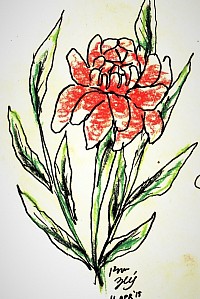 Another Welcome Note to Our Lovely Guests
We like home-cooked food so we prepare most of our sauces, pieces of bread, jams, and meals ourselves.
We like quality fresh foods so we grow our own or source from local organic farmers where possible.
We like good coffee and teas, but who doesn't.
We also sell many of the things we make including pieces of bread, muesli, quark, pickles, jams, and of course our chickens' eggs.



All Day Breakfast
Shakshuka (Moroccan) – served with Chiang Mai sausage, poached egg, and homemade bread (vegetarian option available which includes fetta). 

170 THB

Our Eggs - poached, scrambled, or fried with our homemade bread. 

140 THB

Homemade yogurt and muesli with seasonal fruits /or substitute homemade quark for yogurt. 

140/160 THB

Crumpets – 2 homemade crumpets with honey or jam or peanut butter 

60 THB

Butterfly pea omelet – a mix of blue and white flowers with a bit of salad and bread or rice or/ Tea leaf omelet – fermented tea leaves and seasonings served with rice or bread 

140/ 150 THB

Toast – homemade bread with a selection of jams 

(Gluten bread available for an extra 20 on top of menu price) 60 THB
Lunch
Cheese and herb pie – served with salad or fries 180 THB

Gaeng Hung Lay – Pork curry in a rich spicy sauce served 

with rice 

180 THB

Nacho bowl 

160 THB

Penne pasta with homemade pesto sauce 160 THB
Persian fish – fried fish pieces in a curry, tamarind, and 

coriander sauce served with rice 

150 THB

Burger – 140gms grilled beef burger on a homemade bun, fries, and salad, (vegetarian burger option available) 

150 THB
- Add bacon 45 THB
- Add caramelized onions, ham, cheese, beetroot, grilled pepper 20 THB each      
- Add fried egg 10 eachChefs platter, a mix of the menu, and a few daily surprises 160 THB

7. Open Sandwiches
-Grilled ham and cheese; 130 THB
- Hummus, grilled pepper, and rocket; (vegan) 140 THB
- Smoked salmon, cream cheese, and cappers; 160 THB
Salads
Greek Salad – tomato, cucumber, red onion, lettuce, feta, 

and black olives 

120 THB

Simple Pleasures salad – beetroot, quark (a soft cheese), 

grilled pepper, onion, tomato, lettuce 

160 THB

Garden Salad – selection of seasonal vegetables from the 

garden when available / add smoked salmon 

80 /140 THB

Caesar salad – comes with bacon and poached egg 160 THB
Small Plates
Dip platter – A selection of 3 dips, served with fresh naan 120 THB

Home fried potato chips with sauces (vegan) 110 THB
Grilled pork with spicy dip 130 THB

Chicken wings – fried and seasoned in fish sauce, salt, and 

pepper 

90 THB

Spring rolls with cheese and nam-prik-num 110 THB
Sides
Plain brown rice 15 THB

Dry roasted nuts 90 THB

2 slices of bread (whole-meal, rye, or white) 30 THB
Bacon, 2 pieces 45 THB
Naan bread / Garlic naan 30 /50 THB
Deserts/ Sweets
Ask for our daily selection of cakes and pies

Homemade yogurt and jam 50 THB

Quark with honey and bee pollen 80 THB